Promotions
Below you will find a few current and/or future promotions going on at Thoroughbreds:
Available during the month of January on Sunday, Tuesday and Wednesday from 4:30pm to 6:30pm!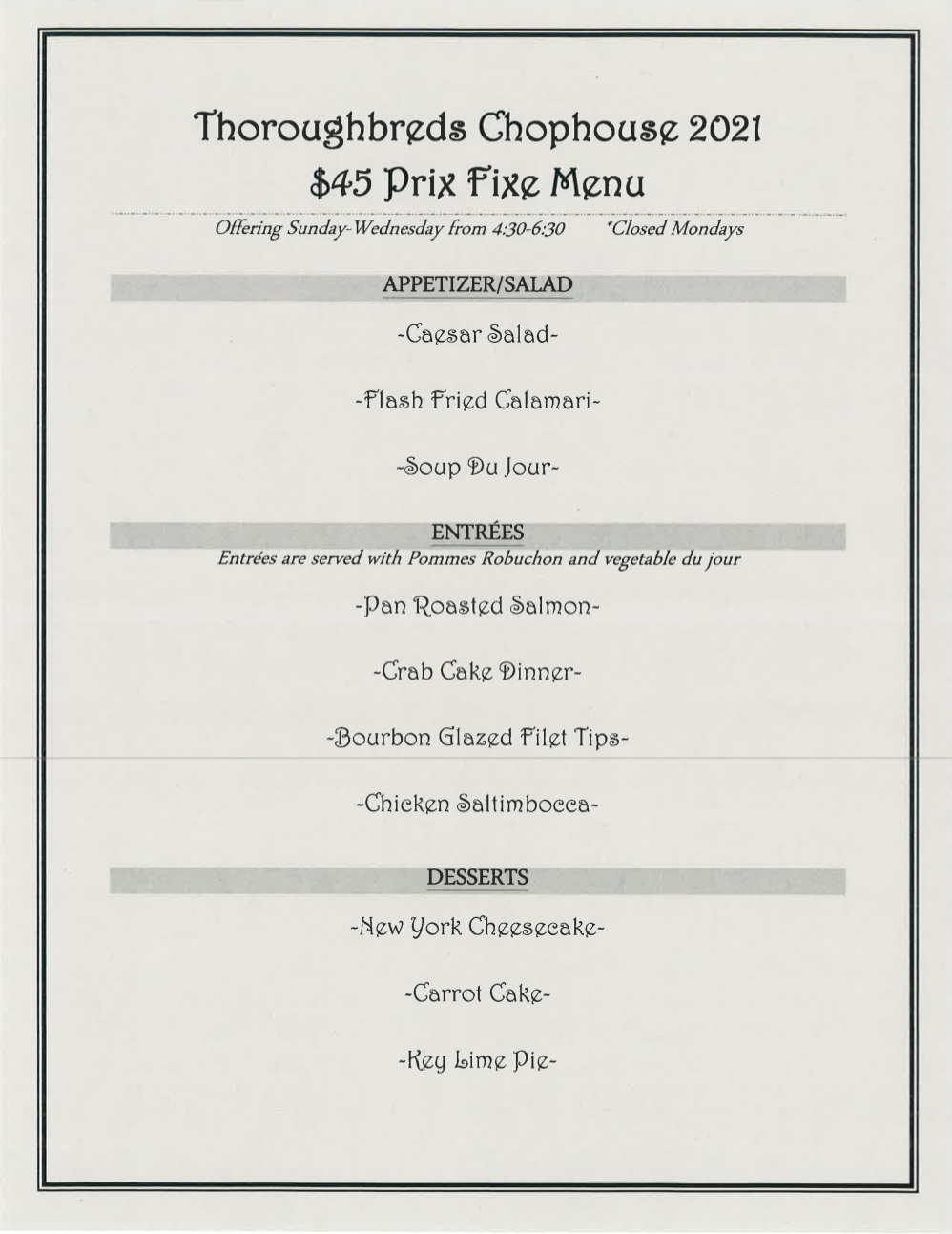 Valentine's Day Couples Special
4 Courses For $149
Each couple will select two appetizers, soup or salad, two entrees, and two desserts. Singles at half price.
APPETIZERS
Oysters on the Half Shell – Quintet of oysters topped with sliced asparagus and shallots finished with hollandaise.
Crab Cakes – Two miniature jumbo lump crab cakes served over roasted creamed corn.
Stuffed Beef Medallion –  Fig and goat cheese stuffed filet mignon medallion.
Tuna Poke – Diced tuna served over brown rice with edamame and ponzu drizzle.
Shrimp Cocktail – Quintet of chilled tail-on jumbo shrimp with horseradish cocktail and lemon.
Prosciutto e Melone – Prosciutto wrapped cantaloupe with balsamic-fig gastrique.
SOUP OR SALAD
Soup Du Jour – Chef's daily soup creation.
House Salad – Spring mix with cucumbers, heirloom cherry tomatoes, and sweet and sour   poppyseed dressing.
ENTRÉES
*Entrées served with pommes robuchon and vegetable du jour.
*Filet Mignon with Grilled Lobster Tail – 8oz. barrel cut of our most tender beef paired with a 7oz. grilled lobster tail.
*Cowboy Ribeye Oscar Style – 24oz. bone-in ribeye grilled and topped with lump crab meat, asparagus and béarnaise.
*Twin Grilled Lobster Tails – Two 7oz. lobster tails grilled to perfection served with drawn butter.
 Scallops and Prawns – Sautéed scallops and prawns served over shrimp-fried rice with vegetable du jour.
 Pasta Carbonara – Spaghetti tossed with Pecorino Romano cheese, cream, peas and crispy pancetta.
 Glazed Sea Bass –  Lobster broth glazed sea bass over mascarpone cheese risotto with vegetable du jour.
DESSERTS
Tonka Bean Crème Brûlée – Rich tonka bean flavored custard topped with caramelized sugar.
Triple Crown Mousse Cake – Chocolate cake with a cookie crust then a layer of chocolate ganache and chocolate mousse finished with chocolate sauce.  
Petit Fours / Chocolate Covered Strawberries – Bite-sized confectionaries accompanied with chocolate dipped strawberries.
Enjoy one of our featured wines with dinner!
 Austin Hope Cabernet Paso Robles 2018 Btl 60   Glass 13
 Grgich Hills Zinfandel  Napa Valley 2015 Btl 70   Glass 15
 The Prisoner Cabernet Napa Valley 2018 Btl 90   Glass 18